The hill of Lycabettus and the view of Athens
Ο hill of Lycabettus is one of the most favorite locations of its inhabitants capital as it offers panoramic view throughout the city. It is worth enjoying it especially at night where its millions of lights Of Athens they illuminate the Attic sky and Athens seems to shine as the darkness carefully hides the gray shade of the city, the cloud and the cramping of apartment buildings in most of the city.
However, on a day with good visibility and a clean atmosphere, you will be able to enjoy the area of ​​the big city, the three mountains that surround the basin (Υμηττός, Penteli and I refuse) but also the opening to the sea and the Saronic bay, the coasts of Aegina and the Peloponnese.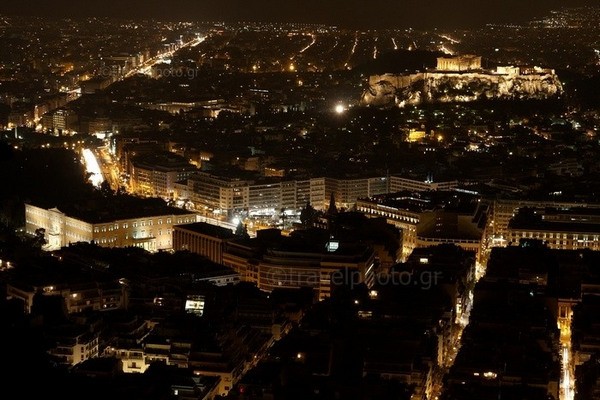 At night, however, the spectacle is exceptional, especially on top of it
hill of Lycabettus
where you will find it
small church of Agios Georgios
(see photos from
Resurrection at Lycabettus and St. George
).
From wherever you stand you will see a large part of the city while the best spots could not be other than those looking at
Acropolis
and his temple
Parthenon
as they have been standing for 2.500 years, today above its low houses and narrow streets
Plate
, perhaps its most beautiful point
Of Athens
with the stairs, the picturesque narrow alleys, the taverns and the houses with the tiles as they were about half a century ago! From these points you will also see the Greek parliament and
Syntagma Square
the
Zappeion
the
Panathenaic Stadium
and other points of interest in Athens.
Accommodation in Athens
See them best prices for hotels in Athens from booking.com - Athens


Access to Lycabettus
To hill of Lycabettus you can climb in three ways:
By car, which you leave in the large parking lot next to the open Lycabettus Theater
On foot following the perimeter road above Kolonaki and then going up the big wide stairs (he wants relatively good physical condition unless you make stops on the benches to see Athens as you go up)
By cable car to Kolonaki and specifically at the end of Aristippou Street.
Photos of the Acropolis and the Parthenon from the hill of Lycabettus
Photos of her
Acropolis
and
Parthenon
by
hill of Lycabettus
on the night of the Resurrection, church of Agios Georgios, Easter 2010
Map of Lycabettus