Kastelorizo island is an idyllic destination that offers a unique sense of tranquility and relaxation.
Access to Kastellorizo island
It is connected with Rhodes by ferry boat and most important by a "cheap ride" airplane that needs around 25 minutes (from Rhodes) to reach the island on the eastern part of Greece. The port of Kastelorizo is the unique settlement on the island (divided into three smaller areas, Pigadia, Mandraki and Horafia ) and is quite famous for its picturesque houses which are built amphitheatrically around the small port's bay.
The island doesn't have beaches but you may swim even in front of your hotel or room as the sea around the island and even inside the small port is very clean.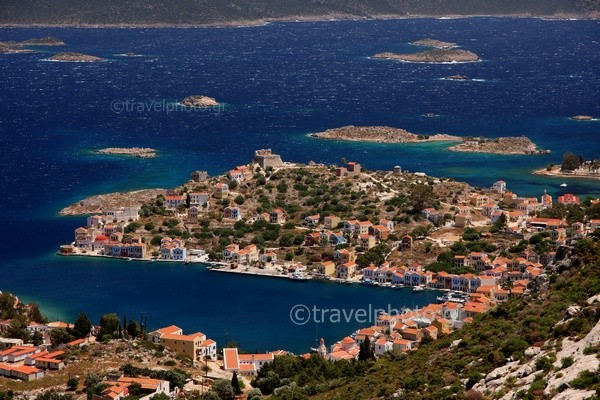 Kastelorizo sightseeing
If you have time visit Palaiokastro (3rd century BC) and enjoy the magnificent view to the island's settlement, the Turkish coasts and the island of Ro. In addition, you may visit the church of Ai Giorgis tou Vounou, with the unique underground "secret room" or catacomb of Agios Haralambos.
The most important archeological monument on the island is the perfectly preserved
Lycean tomb
, 4th century bC, found inside the settlement, approximately on the spot shown on the 
map
under photo section. Finally, do not miss a visit to the famous
blue cave
, with the tiny entrance and the amazing colors that sunlight and water create inside it. You have to hire a driver with his small and low boat from the port and due to the
blue cave's low entrance
, your visit there depends solely on the winds and the sea's waves. So, if it is windy then you'll just have to wait for the sea to calm.
Kastellorizo photos
Kastellorizo island map