Kalavrita (Kalavryta) ski center is located only 15 km away from the small and historical city of Kalavryta, in Achaia prefecture, Peloponnese. Kalavrita are relatively close to the Greek capital of Athens and as a result its ski center is the second most popular ski center in the country right after that of Parnassus mountain, close to Arahova village in Central Greece.
Directions to Kalavrita ski center
Kalavrita are 188 km (117 miles) away from Athens and only 88 km (55 miles) from Peloponnese largest city of Patra. Visitors from Athens may reach Kalavrita after driving on the national highway from Athens to Patra which is under major reconstruction during the last few months.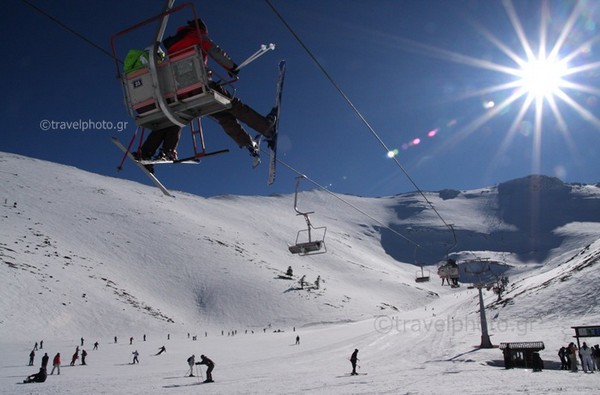 ↓ Best prices for Kalavrita hotels || ↓ View all photos || ↓ Kalavrita Map || ↓ SnowCam || ↓ SKI BUS Kalavrita || ↓ Must see

Search for Kalavryta Hotels
Find the best prices for hotels and guesthouses in Kalavryta picturesque village.
Compare prices, view hotels photos and reviews and book at the lowest price now.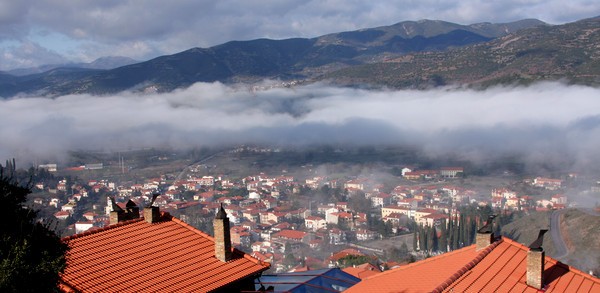 Information
Kalavrita ski resort is located on the North West side of Helmos (Aroania) mountain. Its base where you will find ski schools and equipment, the chalet with restaurant/coffee shop and car parking area, is at an altitude of 1,700 meters while its summit reaches 2,350 meters. It has 7 lifts and 12 ski runs and it continues its successful operations since 1988. You will find it open from December to April, 9 morning to 4 in the afternoon.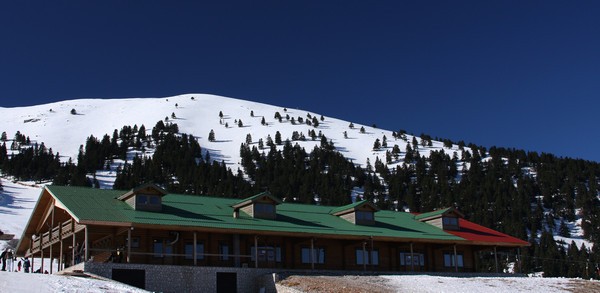 After doing some of your skiing tricks on Helmos mountain slopes you may rest your self on Kalavryta beautiful small town. It is a good idea to arrange for 2 or more days stay there since there are a lot of interesting things to visit and see inside Kalavrita or at the surrounding area. Here is a very short list of the things you may do, see ar visit

Activities-Must see to Kalavrita area
View some natural monuments such as Vouraikos gorge, Lakes cave and Styx water (Ydata Stygos)
The impressive monastery of Mega Spilaio which is build on a vertical rock formation. Also, the monastery of Agia Lavra where the Greek Revolution against the 400 year Turkish occupation officially started on 25 March 1821, blessed by Archbishop Palaion Patron Germanos.
Holocaust Museum. Build on 2005 in order to commemorate all the innocent civilians that were executed by the German troops on the Black Monday of 13th December 1943. All male population over 14 years old, was executed on the hill of Kappi while the whole town was burned down to ashes! According to official resources and the classified radiogram of the 117 Jager Division (German infantry military unit) more than twenty villages were burned down and 697 Greeks were executed during the December 1943 military operations of the German Army on Kalavrita town and the surrounding area. More about the 117th Jäger Division at http://en.wikipedia.org/wiki/117th_J%C3%A4ger_Division
Enjoy your meal, coffee or drink on traditional taverns and modern cafeterias or bars that operate during all year.
Return to text || Kalavrita Map View access info by clicking on the blue sign.


Return to Kalavrita ski center photos || Top ↑
Access directions to Kalavrita town and Ski center at Helmos mountain: (click the respective red sign on Kalavrita map)


Kalavrita Ski Bus
Athens:Reservations: 0030 210-5763935 – 0030 6989 469333 and 0030 6936 645853, Until 23:00 the day before
Info about departure spots and hours at http://www.klaoudatos.gr/skibus_en.htm
Snow Camera (snowcam) from Kalavryta Ski center
Kalavryta ski center base, altitude 1,750 meters.


image from Snow Report