If you have decided to stay at Athens, Greece during his days Πάσχα then you will definitely have the opportunity to move to a much more comfortable city in terms of street traffic, parking and congestion in some nightlife areas.
In addition, you will have the opportunity to experience it Resurrection of Holy Saturday in perhaps the most beautiful place to enjoy the view of night Athens that shines in contrast to the day that shows its gray face. What is this point?
But of course the hill of Lycabettus and its chapel St. George dominating its top.
photos || Area map || Access to Lycabettus || Hotels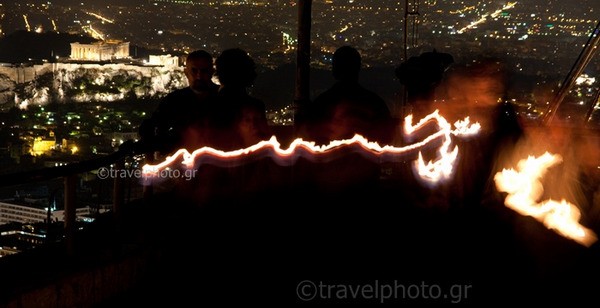 Christ is Risen in Athens
The view to Acropolis and the Parthenon the Constitution the Hilton and in general in the whole basin of light, it takes the breath away of whoever is there for the first time. You can listen to her function of the Resurrection either inside the small church, as long as you go well before 12 to find a place, or just stay in the courtyard with the unique view and say the Christ is Risen watching them fireworks launched at Attic sky from various temples on the outskirts of the city.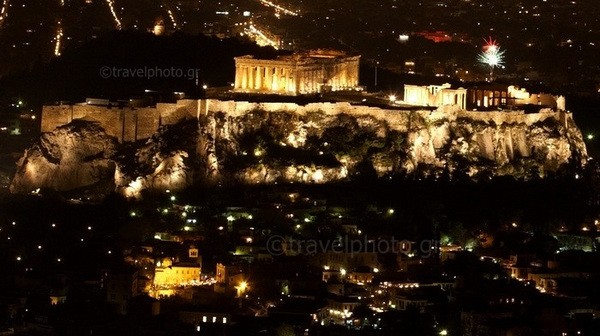 You will have panoramic view in all of this and really worth sitting down after Christ is Risen on the hill gazing towards the parking lot and its theater Lycabettus the crowd that descends and the trail that he "leaves behind" keeping them lit by Holy light candles.

Accommodation in Athens
See them best prices for hotels in Athens from booking.com and read other guest reviews before making it reservation your

Access to Lycabettus
There are three ways to climb Lycabettus Hill. Either by car, which you leave in the large parking lot next to the open-air theater of Lycabettus, or on foot following the perimeter road over Kolonaki and then going up the large wide stairs (it requires relatively good physical condition unless you make stops on the benches to see Athens as you go up), or by cable car to Kolonaki and specifically at the end of Aristippou Street.

Photos from Holy Saturday in Lycabettus
See more photos with the night view from Lycabettus to Acropolis, the Parthenon and the Constitution.

Map of Lycabettus