If you happen to be in Athens during the Holy Week and Easter time then you will probably don't want to miss the chance of spending the Holy Saturday night from one of the best spots in Athens.
Lycabettus hill
Lycabettus hill is a tourist trap with a good reason for it since it offers according to many, the best panoramic view to Athens city.
It is the highest point in town, 277 meters and from its top you will have the chance to view the vast urban sprawl and some of the most interesting spots in Athens, like Acropolis and Parthenon, the Greek Parliament, Panathinaiko stadium and many other. You better take with you binoculars or a long range lens in order to have a close look to coastal Athens and the Saronic gulf (even Aigina island on a clear weather) or the more mountainous areas of the north suburbs under Penteli and Parnitha mountains.
Lycabettus Photos || Lycabettus Map || Access to Lycabettus hill || Hotels in Athens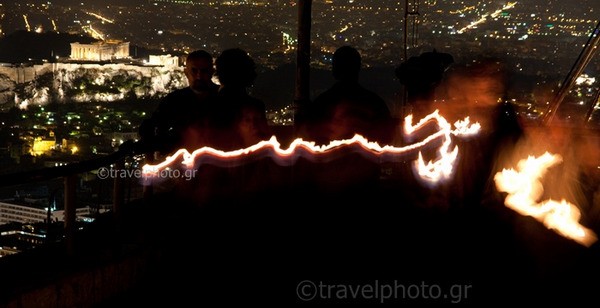 Holy Saturday night in Athens
Holy Saturday night is probably the best time to "climb" at Lycabettus cliff since you will have the chance to experience the Greek religious tradition and the holy mass of Jesus Resurrection (Anastasi in Greek) from the Saint George chapel. You may enter the chapel or stay outside on the courtyard and view the Athenian sky as it lights up from the fireworks some time before and after midnight. You better be there at least an hour before midnight since many Athenians visit during that night the temple of Saint George in order to feel this unique combination of religious spirituality and spring night breeze.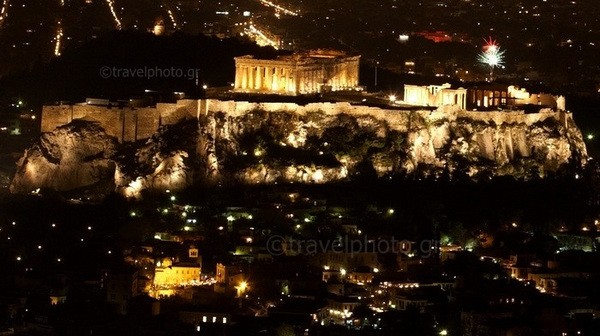 Access to Lycabettus hill
You may reach Lycabettus hill with three different ways. By car which you can leave at the large parking site next the open Lycabettus theater, by foot from the peripheral Kolonaki road and then by following the large half-pace all the way to the top (this can be very tiring during hot summer days or even nights), or by taking the cable-car from Kolonaki district again at the end of Aristippou street.

Hotels in Athens city
View the cheapest offers from hotels in Athens from booking.com and do your reservation by comparing between the reviews of other Athens' visitors.

Photos from Holy Saturday at Lycabettus hill, Athens
View more photos from Lycabettus to Acropolis, Parthenon and night Athens.

Lycabettus map