Koroni is one of the most beautiful small towns in coastal Messinia, build opposite to the impressive Taigetos mountain, with nice beaches, traditional houses and a dominant Venetian castle on the top of the hill.
View all photos from Koroni || View map with photo locations and access directions to Koroni.
Access and distances to Koroni
Koroni is located on the southwest side of Peloponnese, in Messinia prefecture. Its distance from Athens is 280 Km and only 51 km from the capital of Messinia, Kalamata city. (you may get detailed information in order to reach Koroni by clicking on the map's red sign and access link)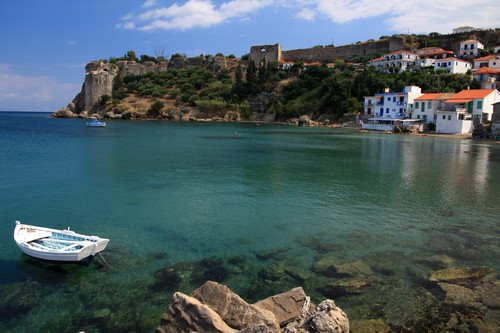 When you arrive to Koroni you may either walk on its the coastal road with the cafeterias and fishing taverns to enjoy the view to Messiniakos Gulf and the impressive Taigetos mountain or go straight up to the Venetian castle and roam on its deserted alleys. Inside the castle you will find the monastery of Timios Prodromos and the 12th century Byzantine church of Aghia Sophia. Walk through the monastery's garden and climb the stairs to one of the fortified towers to enjoy the spectacular 360 degrees view.
Hotels in Koroni, Messinia prefecture.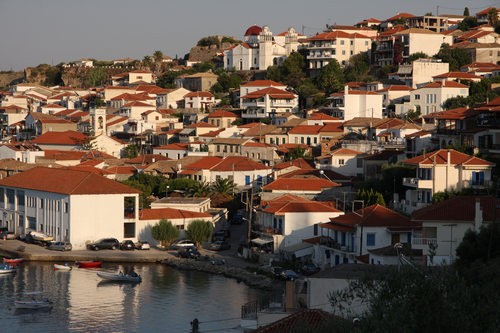 In addition you may swim in one of the three
Koroni's beaches
with the one being under the castle's walls. Take a
dive
with your swimming glasses and you will find your self over sunken
medieval ruins!
Very close to Koroni you will find the beautiful village of Finikouda with long beaches and plenty of campings and after a few kms (around 5 km) visit the fellow medieval castle small town of Methoni.
Text/Photos: Yiannis Tsouratzis
Return to Koroni description
Photos from Koroni village
Return to Koroni photos or Koroni description
Koroni map
For detailed access directions to Koroni click on the map's red sign.