The beautiful gateway to the secrets of Pelion.
Although the Makrinitsa is characterized and not unjustly of course as the balcony of Pelion, Portaria has almost nothing to envy since from various parts of the settlement it offers endless views of the Pagasitic Gulf and the capital of Magnesia. A typical example is the point, shortly after the entrance of the renovated hotel Xenia, that is worth visiting and sitting for a coffee, depending of course on the season, in order to enjoy the beauty of the slopes of Pelion as they are lost in the semi-urban and urban landscape of Ano Volos and Volos respectively.
As you reach the center of Portaria and a few meters before the stairs to the square, you will see a large fountain which is very likely to be filled with water bottles. From this point of the road and up to several, sometimes, above you will find small shops that sell all the goods of the mountain such as pots with fragrant flowers, fruits with the most common famous Zagora apples, home art items, and many pastries but also honey!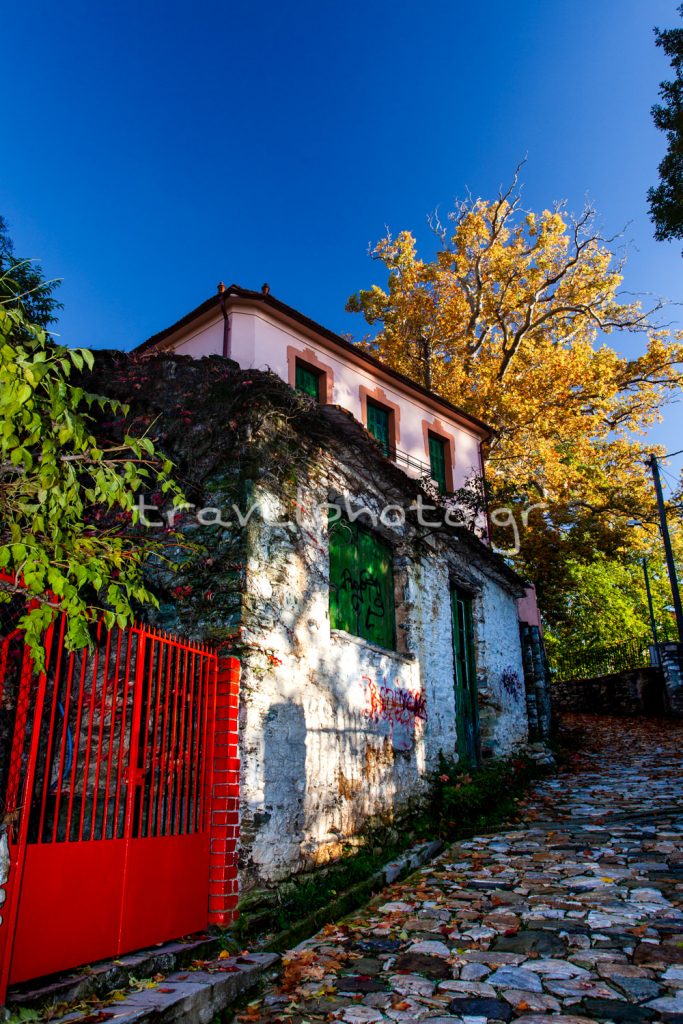 The square of Agioi Taxiarches
The second large square of Portaria is that of Agioi Taxiarches. It seems to be a little smaller while it is definitely quieter than the central one. However, it offers an excellent view of the Pagasitic Gulf while from there it is worth walking a little higher and seeing the small waterfall Karavos as well as a different view of Portaria as it spreads on the mountain slope. Another route that is worth walking if you have two or three hours available, is the well-known and beautiful path of the Centaurs.

Accommodation in Portaria
In Portaria there are several hotels and hostels which sometimes, however, due to the extremely high demand, do not reach all the visitors. That's why it would be good to arrange in advance the issue of your stay there just in case.
If you do not find a room in Portaria do not forget to try your luck at beautiful Makrinitsa. It is located from Portaria at a distance of 2 km and is equally beautiful. If you still do not find a room in Makrinitsa, all you have to do is try your luck in the city of Volos. It is located 12 km from Portaria and you will need about half an hour under normal conditions to be in its central square "Melina Mercouri".
Hotels in Volos (12 km from Portaria)
Hotels and hostels in Makrinitsa (2 km from Portaria)
Photos from Portaria