If you hear the word gorge or canyon and your mind goes straight to Grand Canyon or Samaria gorge in case you are Greek, then you probably have to reconsider since Vikos gorge is the one that earned a quite impressive entrance to the Guinness book of Records.
↓ View all photos from Vikos canyon || ↓ Area map and location view spots
Vikos gorge and its world record
Vikos gorge or canyon is one of the major attractions in the surrounding area in northern Epirus and Zagoria villages. This is one of the most important and most impressive gorges in the world, actually the deepest in proportion to its width and this feature earned it an rearkable entrance to the Guinness Book of Records. So, according to the 2005 edition, Vikos gorge is the deepest canyon in the world, with a depth of 900 and 1100 meters wide.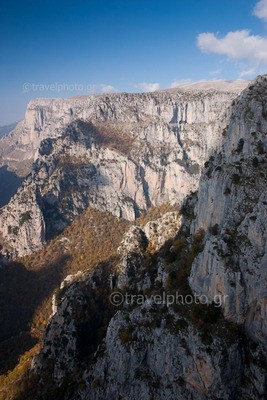 This means that depth has an impressive 82% of the width, (depth/width ratio of 0.82), and although this ratio is not the largest, it gives the first place because of the very high depth. Certainly numbers and records are not what really impress visitors to the region but rather the natural beauty and gorge's view from its beginning till its end!
Vikos gorge location
Vikos Gorge is located at the heart of National Park Vikos-Aoos, an area that is one of the most important ecosystems in the country because of its rare flora and fauna. Its length is 11 kilometers and crossed by a small stream that at the end of the gorge becomes the beautiful river Voidomatis, probably the cleanest river in Greece. Vikos gorge is stretched from Monodendri and Koukouli villages up to Vikos village. This is a geographically isolated area where no form of human activity that is related to farming or logging is allowed. This fact, favored the development of large and unique biodiversity and literally created a haven for many rare and endangered species such as deer, bear, wild goat, golden eagle and others. However, in order to enjoy the unique beauty of the canyon, we propose to cross it on foot, accompanied by an experienced guide through the sign posted footpaths across the area. The duration of this tour is 5 to 6 hours and will offer unique images of the Greek nature and the particular beauty of Vikos canyon.
View locations to Vikos gorge
Whether cross the canyon on foot or not, do not miss the view from above. There are  three locations that offer spectacular views of the canyon and all of them are a must to visit. The first and most easily accessible is the location of Oxia, the second is from the Monastery of St. Paraskevi Monodendri and the third, the position Beloi. At Oxia you go by car from the village Monodendri, to the second again from Monodendri village and then you have to walk on a trail where you will see the sign indicating the inclusion of Vikos gorge in the Guinness book, while for Beloi location, who is perhaps the most impressive, you have to go to Vradeto village and then walk for about 10 to 20 minutes depending on your pace.

Stay at Zagorochoria area in Epirus
View all available hotels and guesthouses at Zagorochoria from booking.com
Photos from Vikos gorge.
Oxia and Mpeloi locations on the map