Symi (Simi island) offers some of the most idyllic pictures of Greece. Its picturesque harbor Gialos with the traditional colorful houses is one of the most depicted settlement in Greek island postcards! Symi's visitors will understand the reason by the time their boat approaches to the impressive harbor.
Gialos' houses are connected, through Kali Strata way (500 hundred wide steps) to island's capital Chorio, that is located on the hill right above. A visit to one of the highest spots in Chorio, to the Venetian Knight castle and Panagia church, offers an impressive view to the traditional settlement as long as to some parts of the island and  the Turkish coasts.
Ferry boat schedule for Symi island
Pick your departure port and check when and how it will cost you o travel by boat in Symi island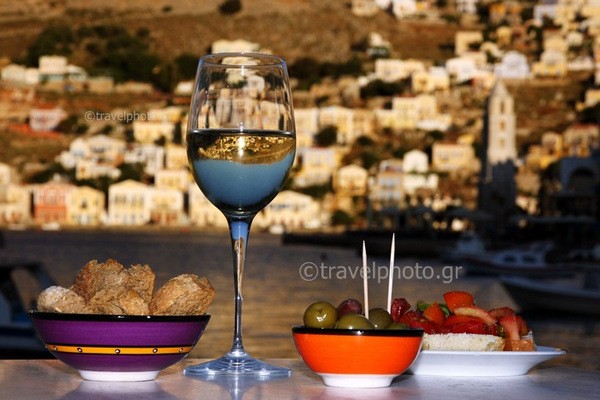 While in Symi don't forget to visit Pedi coastal village, located on a tranquil bay with a small beach and very calm water to swim. Moreover, in Panormitis bay, you will have the chance to visit one of the most important monasteries in the Aegean, that of Taxiarhis Michail (15th century AD). Information and bookings telephone: (0030) 2246071581.
Hotels and accommodation in Symi island, Dodecanese
Find hotels in Simi island and compare prices and reviews on booking.com (Symi)
Continue to Symi daily excursion day or View map with photos locations.
Simi island photos
Return to
Symi photos.
Excursion boat around Simi island
Last but not least is one of  my personal favorites activities in the island of Symi. Keep a day for a excursion boat . It will take you around the island where you will have the time to visit some "hidden" spots with exotic water to swim, like Sekslia island and the breath taking beach of Ai Giorgis Disalonas with the unique 300 meter steep rock right above the pebble beach!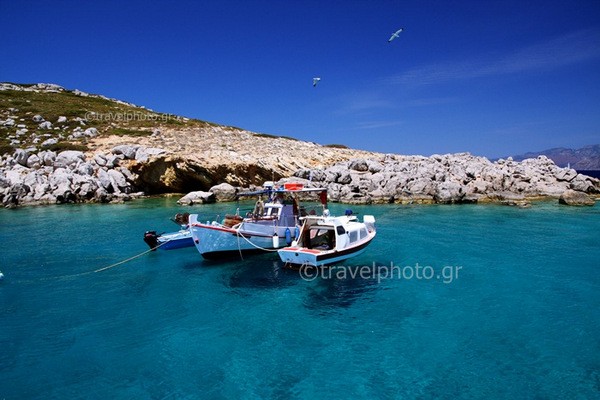 I was lucky to take this excursion with captains Makis and Yiannis who own Triton and Poseidon boats respectively. We first passed from a small blue cave then we had some time for swim to an amazing shoal spot with exotic water (see photos) and then we set out for Panormitis. We had 45 minutes to visit the monastery and then we visited another magic sea spot at Sesklia small islands!
There we had 1 hour break where Makis and Yiannis prepared our launch with around 6 different tasty dishes! Wine, refreshments and water for one of the best moments in Symi! For desert we visited the amazing beach of Ai Giorgis Disalonas with the 300 meter steep rock formation right above the pebble beach. I would like to thank Irene, Evaggelia, Makis and Yiannis for their great help in order to take some of my best pictures of Symi island.
text/photos: Yiannis Tsouratzis
Simi island map