Η
Trikala Gate
is located in a beautiful natural landscape dominated by imposing mountains and the river
Portaikos
. It is within walking distance from the capital of the prefecture of Trikala, and specifically 18 kilometers from
Trikala
.
The name of her town Gate due to the geographical location in which it is built. It is located just before the passage between the two mountains Koziakas and Ίταμος and is essentially the entrance from its lowland and rural areas prefecture of Trikala to the mountainous and southern areas of Pindos.
Photos from the Trikala Gate | Area Map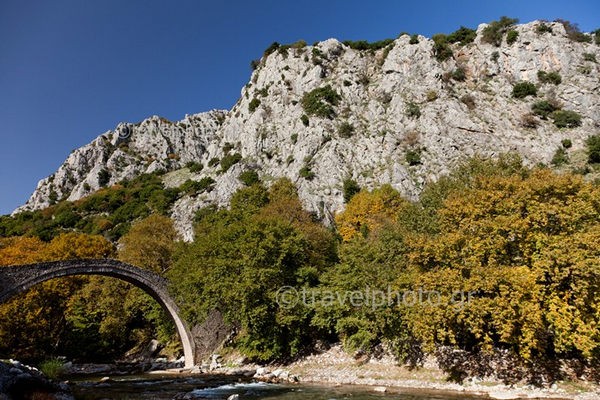 It is located on the road
Trikala-Arta
while it is a favorite stop for hikers before they reach its popular winter destinations
Fir
Of
Pertouliou
and the ski resort located there.
The stone arched bridge of the Gate
At Gate Of the approximately 2.500 inhabitants there are several attractions that are worth stopping to see. The first is the most photographed stone arched bridge dominating over him Portaiko river. It is located about one and a half kilometers outside Gate and is perfectly harmonized with the wild natural landscape for about 500 years since it was built in 1514 by Saint Bessarion.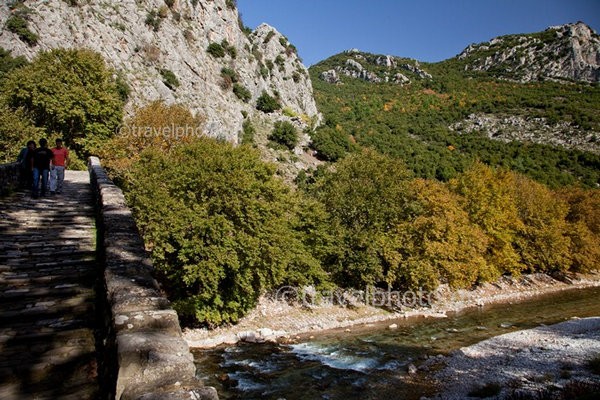 This is a construction achievement of the time, just consider that it has a length of 67 meters. So after climbing to the top of its arch to admire from above and specifically the 30 meters, its fierce passage Portaikos, you can either sit next to it brown, or buy traditional local produce from the outdoors retailers lined up on the side of the road or cross the bridge to the other side of the river and walk in its direction Portaikos for about 1 kilometer to the most important Byzantine and religious monument of the area of ​​Pyli. Him Byzantine church Door of the Virgin.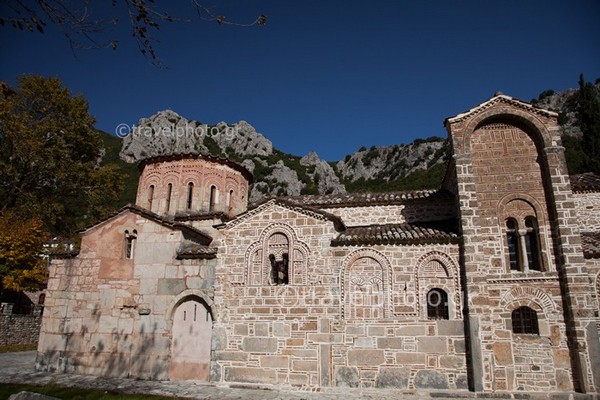 Door of the Virgin
Ο church of Porta Panagia or otherwise the "Our Lady of the Great Gates»Is located opposite Gate, in the settlement Door which was also the birthplace of Saint Bessarion. It was built 1.283 by the sevastocrator Ioannis I Angelos Komninos Doukas and although it has suffered several and great damages since then it has preserved several elements such as the frescoes that are relatively recent, of 18th century but also the original floor. Its uniqueness temple beyond important historical and religious significance which has for the wider area of Trikala, is located in two mosaics of the main gate of the sanctuary. These are the full-length icons of the Virgin Mary and Christ, placed in opposition to the Christian Orthodox tradition, with Christ on the left and the Virgin Mary on the right.
Photos from the Trikala Gate
Trikala Gate - Map