Pyli Trikalon (Pili Trikalon) and its impressive stone bridge are located on a beautiful natural landscape where tall mountains and Portaikos river are the dominant elements. It is very close to Trikala prefecture's capital and in specific at only 18 km from Trikala city.
Pyli's small city name means a gateway, a natural passage and its location is exactly this. A connecting point from the rural and plain areas of Trikala to the mountainous regions of Pindos area. Pyli is also a favorite resting place for travelers to the famous winter resorts of Elati and Pertouli villages and to Pertouli Ski center.
Photos from Pyli Trikalon | Pyli Trikalon map
Pyli and its stone bridge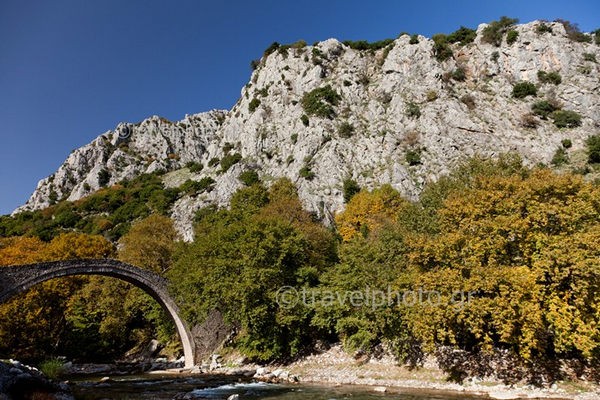 Probably the most important sight in Pyli Trikalon small city is its stone arc bridge that stands firm over Portaikos river with the usually roaring water. The stone bridge was build in 1,514 by Saint Vissarionas and it is considered an engineering marvel of the time. Its length is 67 meters and you better go on the top of its arc in order to see the view from its 30 meters height!
After viewing the bridge and Portaikos river you may either go to the adjacent café, do your shopping of local products from the small market by the road or cross the bridge and walk for 1 km in order to take a good look at the other important Pyli's sight. The Byzantine temple of Porta Panagia.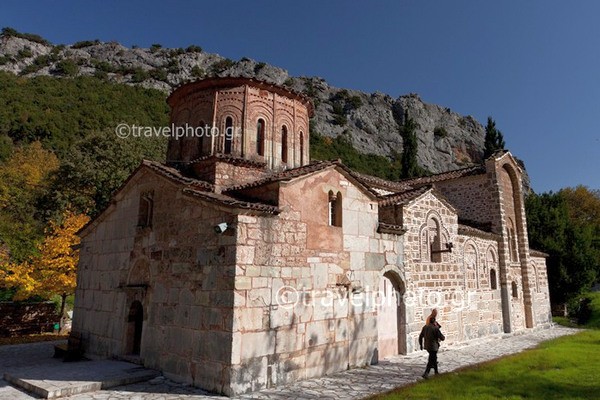 Porta Panagia
Porta Panagia temple or "Panagia ton Megalon Pilon" is located across Pyli and it was build at 1,283 AD. It has suffered many damages through the ages but also managed to keep its original character like the 18th century wall paintings and its original floor.
It is very important for both historical and religious reasons for the entire Trikala area and is also unique due to two mosaics that Holy Mary and Jesus are depicted opposite to the Christian Orthodox tradition, with Jesus Christ on the left and Holy Mary on the right!

Photos from Pyli Trikalon
Pyli Trikalon area map