Unique view to Acropolis and the Parthenon from Thision area and Filopappou hill, two of the most beautiful city spots. Except from the amazing view you will find people from all around Athens and tourists from all over the world!
Go to photo section
Athens city
Athens city is the Greek capital and by far the largest Greek city with population (including its suburbs) close to 4.5 million people. It is one of the most historical and ancient cities of the world with a recorded history around 3.500 years. Its name is derived from ancient goddess Athena, after a mythological contest between her and sea god Poseidon.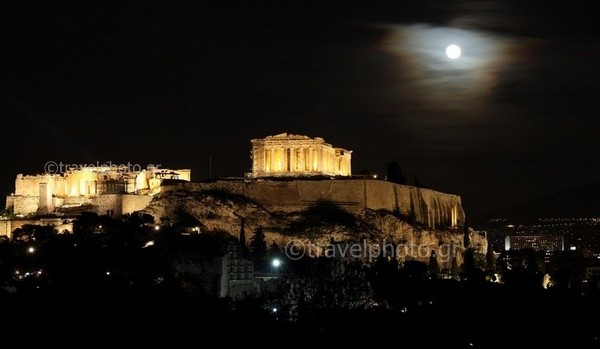 Both claimed to give their name to the city and offered 2 gifts to its citizens. Poseidon gave a salt water spring and Athena an olive tree that symbolized peace and prosperity. Athenians chose Athena's gift and gave her name to their city.

Acropolis and Parthenon
The most important ancient monument, also a UNESCO World Heritage Site, in the city of Athens is its Acropolis. It a 150 meter steep flat-topped fortified rock where various great monuments were build during ancient periods. The most important is the temple of Parthenon, build by architects Iktinos and Kallicrates from 447 BC since 438 BC and it was part of Pericles building and reconstruction program that took place during the so called golden age of Athens. Apart from Parthenon, in Acropolis you will also see famous ancient monument such as
Propylaea
Erechtheum
Temple of Athena Nike
and many more. It was on the Acropolis rock that the Acropolis museum was housed until the new Acropolis museum (www.theacropolismuseum.gr) was build under the Acropolis rock and infront of Dionysus ancient theater. See map for its exact location and how to get there.
Hotels and accommodation in Athens.
Acropolis and Parthenon temple photos, Athens
Map of the Acropolis and Athenian historical center