Accommodation in Olympos village | Photos from Olympos village

Olympos traditional village in Karpathos
Isolated from the rest of the island (Photos from beaches and villages in Karpathos island) during most years of its five century life, Olympos village has preserved almost intact the traditional features of a mountainous but insular Dodecanese village. Women still wear their traditional garments and many habitants still spoke the local dialect with some Dorian influences.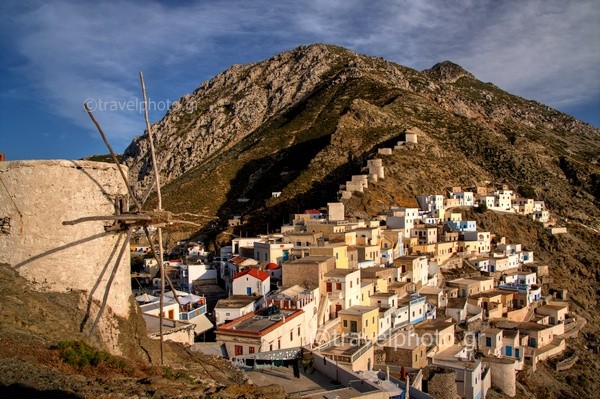 Olympos is built on the slopes of steep mountains with one side of the village overlooking the Aegean sea offering amazing view to the usually rough seas around Karpathos (island article).
Access to Olympos village in Karpathos
You may reach Olympos in three different ways
Through Diafani, the second Karpathos port, (nice road to the village)
From Pigadia on a tourist boat (20-25 euros, May 2010)
Rent a car (jeep) from Pigadia.
I hired a
Suzuki Jimny
for 40 euros from
Pigadia
. The road after
Spoa
village is dirt road and in some spots slightly difficult since construction still goes on and centain locations are very narrow and steep. It is the most expensive option but it gives the freedom of time since i had to stay for almost a day in order to get some photos of the village. It also gives a clear view of the distant and isolated landscape in which
Olympos
village is located. (i travelled in
Karpathos
during
May 2010
so some things may have changed due to construction works on the road to
Olympos village
. Hope for the better)
I would like to thank Marina Lentaki and her family for the valuable information they provided during my stay in Olympos.
Text/Photos: Yiannis Tsouratzis
Photos from Olympos traditional village
karpathos island map
Photos from Karpathos' island beaches and villages