Finikouda village is a small but beautiful resort on the south west coast of Messinia prefecture. Its large sandy beach and its privileged location, in the middle of the road from Methoni to Koroni, make it a favorite summer destination for relaxed holidays combined with a lot of sightseeing!
Access to Finikouda
If your starting point is the city of Kalamata (Messinia prefecture capital) then you have to take the road to Tripoli city and after a few kilometers turn left for Messini small city. From there you can either take the way to Koroni or follow the road Kalamata-Pylos that will take you to Pylos, of course, then to Methoni and after 12kms to Finikouda. If you follow the first way you will have to take the new road from Koroni to Methoni in order to avoid the narrow and curvy route from the mainland. If you come from Athens then just a few kms before Kalamata turn right to Messini and follow either one of the two roads mentioned above. You may also use the map after photo section by clicking Directions on the map's red symbol.
Distance from Kalamata to Finikouda is approximately 70 kms and Athens-Finikounda 290 kms.

Finikouda photos | Area map | Finikouda hotels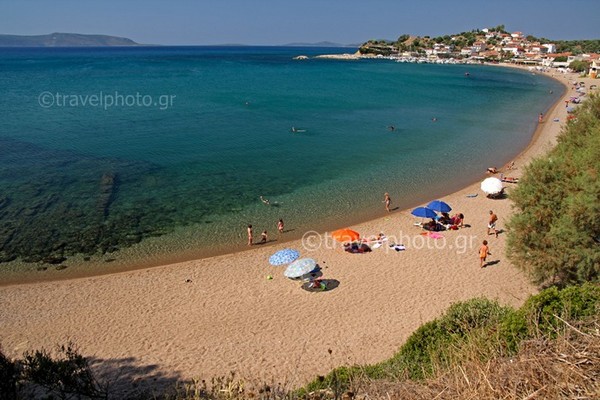 Activities and sightseeing at Finikouda
During your staying at Finikouda you can enjoy swimming on its beach or on the many and nice beaches before and after the village (there are also many well organized campings there offering a trustworthy accommodation alternative) and after your sunbath you may rest at the tavernas, ouzeris or cafes right next to the beach. Night life is relatively calm but you may find some cool bars, a club and a traditional open-air discotheque surrounded by olive trees and classic Disco tunes!
Moreover, its close distance to Methoni and Koroni is a plus in order to visit these amazing castle settlements. Both have medieval castles with rich history to explore, nice beaches and most kinds of tavernas or restaurants. If you have the time do not miss to visit Pylos with its "new" and old castle (Niokastro – Paleokastro) or go even further to the amazing and unique beach of Voidokilia, on west Messinia's coast.

Foinikounda accommodation
In Foinikounda area there are a lot of large and organized camping but if you prefer the more comfortable solution of hotels and rooms to let you can have a look at booking.com – Foinikouda
You may also check Messinia prefecture hotels from booking.com
Finikouda photos
South west Messinia Map
click on the red symbol for access info.