The legendary Moutzouris Pelion train
One of the most beautiful and traditional railway routes is found in Pelion mountain and in specific from the village of Ano Lehonia to the traditional Pelion village of Milies. It was constructed in the end of the 19th century and it helped as the major and most reliable transportation mean that facilitated commerce and Pelion population communication with the city of Volos.
Although the small Pelion train, also know as the legendary Moutzouris, was for some decades abandoned due to the increase of car usage, it regained life as a touristic attraction which teaches the younger how life used to be in the recent area history but also reminds to the elders the way they used to travel and move from place to place for their everyday commercial, professional or social needs.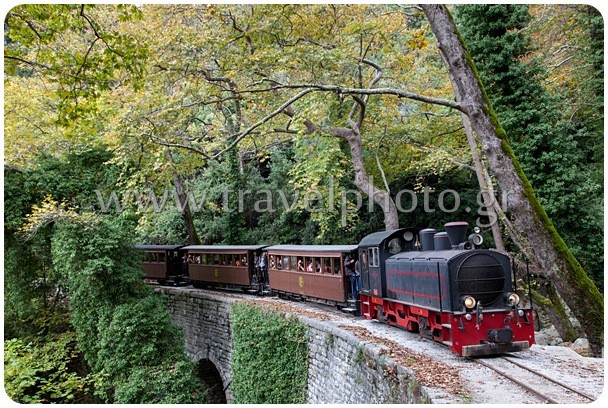 Info, Milies station, De Cirico bridge
You also have the chance to enjoy the sound and the feeling of traveling to a 19th century train, from April to late October every year, although it would be nice to see this train available at least for the weekends during winter time, a period that
Pelion mountain
is also a popular touristic destination. A
2-way ticket
costs 18 euros for adults and 10 euros for children, while a one way from either Ano Lehonia or Milies station costs 10 and 6 euros respectively. The route is 16km long and there is a 15 minute stop at Ano Gatzea station.

For further info call TRENOSE: tel/fax (0030) 24210-39723, train itineraries: 14511, email: grafeio.volou@trainose.gr
If you go to Milies station do not miss the chance to walk by the train narrow lines until the famous due to its special construction method, metallic De Cirico bridge (father of the famous Itanian artist Giorgio De Cirico). By taking this way you will have the chance to admire the natural beauty of Pelion mountain with views to the green and full of trees mountain slides, the iron bridge of De Cirico and the village of Milies (if you walk at least 5 minutes after the bridge).

Hotels in Vyzitsa – Milies, Pelion mountain,Greece, from booking.com website
Images from Pelion mountain traditional train (Moutzouris)
The two train stations