One of the most important religious and architectural monuments in not only Cyclades but in the whole Aegean area is the famous church of
Panagia Paraportiani
in
Mikonos
island.
It's name is derived by the medieval setting and history. In specific, Panagia Paraportiani church was part of the medieval castle of Mykonos (Mikonos) island and it was located be one of the small doors/entrances to the castle. This door was called "Paraporti" and its from where it gets its name. Panagia Paraportiani church is a 2 level building, on the ground floor is the location of four different churches on top of which sits the fifth temple dedicated to Holy Mary.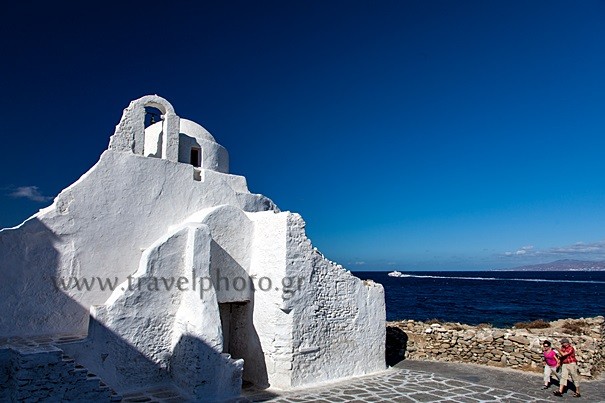 Useful telephones in Mykonos(Mikonos)
Greek phone code: (0030)
Piraeus boat schedules: 14944, recorded ferry time schedule. Piraeus port authority: 210-4147800, 210-4226000
Rafina port authority: 22940 28888, 22940 22300, 22940 22487 Mykonos island port authority: 22890 22218
Athens Airport: www.aia.gr
Olympic Airlines: 210 966 6666 (Athens)–Mykonos: 22890 22327, 22890 22490, 22890 22495
Aegean Airlines: 210 626 1000 (Athens) —
Mykonos: 22890 28720, 22890 28721
Mykonos local buses: 22890 23360, 22890 26797 , www.ktelmykonos.gr
All phone numbers are from the official Mykonos municipality and ministry of sailing websites, added on July 2012
Hotels in Mykonos (Mikonos) island
Find the best price for rooms and hotels in Mykonos from booking.com (Mykonos).
photos from Panagia Paraportiani church in Mykonos
Mykonos map